Top 10 beautiful places that are perfect for destination wedding in india
Getting married is, without no doubt, one of the most beautiful days in everyone's life… it's the time when you and your partner can rejoice the new beginning together. And what could be a better way to freeze this special moment in time than choosing a lovely destination for the wedding.
Thankfully, you don't have to go far to find a place that can make your Big Day even more special. All that you need to make your wedding ceremony unforgettable can be found in India itself. Below is a list of ten wonderful sites for a Destination Wedding in India.
1. Udaipur – For That Pretty Wedding Destination: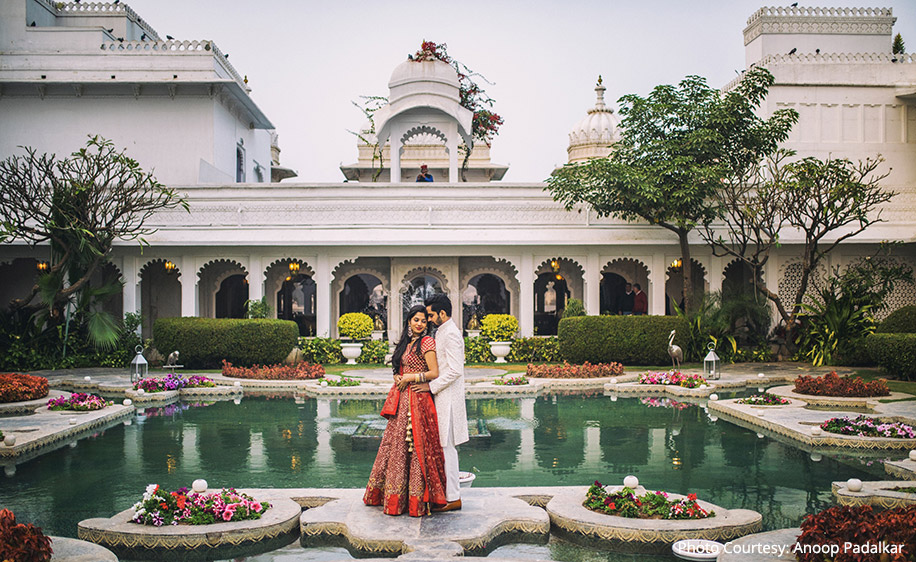 Of all destinations in India that are known to be perfect for weddings, Udaipur always comes out on top and for good reason. Its clear blue skies, glorious palaces and breathtaking lakes make the most splendid setting for a regal ceremony. Rest assured, your wedding pictures will turn out to be super colourful and vibrant! An advantage is your guests will have a lot to do once the festivities are over, from going on sightseeing tours to indulging in exciting activities like boating on Pichola Lake.
Top wedding venues in Udaipur are: Devi Garh, Oberoi Udaivilas, Durbar Hall at Fateh Prakash Palace, Taj Lake Palace and Manek Chowk.
Best time of the year to host a wedding in Udaipur: September to February.
2. Jaipur – For a Grand Wedding Location:
The "pink city" of Jaipur is an ultimate destination for those who want to get married amidst sheer royalty. The city ranges from authentic ornate palaces like Raj Palace, Rambagh Palace, and Jai Mahal Palace – to stunning old mansions. For people seeking less expensive options, Jaipur features lots of old mansions to be ideal for it. Alsisar Haveli and Mandawa Haveli are some of the greatest choices and if you want your wedding in a heritage venue, Samode Palace is a place for you.
Some of the most popular wedding locations in Jaipur are: Taj Jai Mahal Palace, Pride Amber Vilas Resort, Chomu Palace, Fairmont Jaipur, Samode Palace, Oberoi Rajvilas Palace, Rambagh Palace and Alsisar Haveli.
Best time of the year to host a wedding in Jaipur: February to March.
3. The Backwaters of Kerala – Go A Little Offbeat:
This ultimate serene and charming destination holds an appeal for being a perfect wedding venue. The concept of destination wedding in Kerala is not so appealing for many people. However, the pleasant weather of the state makes it one of the best places for destination weddings in India. Located along the banks of a lake or palm-fringed canal, Kerala features a number of resorts organizing special weddings in a traditional style. Leela in Kovalam and Varkala are the main scenic spots for a beach wedding.
Some of the most beautiful places for weddings in Kerala are: Kumarakom Lake Resort, The Leela, Kadavu Resort, Indriya Beach Resort, Lake Palace Resort, The Raviz and more.
Best time of the year to host a wedding in Kerala: September to March.
4. Andaman and Nicobar Islands – Getting Hitched By The Beach:
Wish to say 'I do' far away from the mainland amidst azure-coloured skies, clear waters and golden sands? Think of Andaman and Nicobar Islands. While most parts of it are not accessible to tourists, the Havelock Island has many seaside resorts for you to get married at. Did you know you can even book an entire island resort and exchange vows in the backdrop of the Indian Ocean? The pleasing weather of Andaman and Nicobar Islands is all the more reason for you to get married here.
Some of the most beautiful places for weddings in Andaman and Nicobar Islands are:Taj Exotica resort and spa, Havelock Island, seashell Island Resorts, Havelock, Coral Reef Resort, Peerless Resort, Port Blair, Munjoh Ocean Resort, Havelock Island, Fortune Bay Island Resort, Port Blair, Symphony summer sand beach resort and spa.
Best time of the year to host a wedding in Andaman and Nicobar Islands: September to May.
5. Jodhpur – For A Grand Affair In Rajputana Style:
The "Blue City" of Jodhpur is home to a number of graceful palaces, magnificent forts and breathtaking temples and offers a picture-perfect and awe-inspiring setting for a royal wedding. The historical splendor, delicate art-crafts and folk music make the atmosphere of the city actually romantic and vivacious. For your fairytale wedding in India, it is an ideal place to get married in a royal way. Experience the charm of the bygone era of Rajasthan and take the oath of lifetime togetherness.
Some of the best wedding venues in Jodhpur are: Umaid Bhawan Palace, The Balsamand Lake, The Taj Hari Mahal and Ajit Bhawan, which are known for exemplifying the local flavors and culture of the state.
Best time of the year to host a wedding in Andaman and Nicobar Islands: between November to February.
 6. Goa – Wedding And Partying Hand In Hand :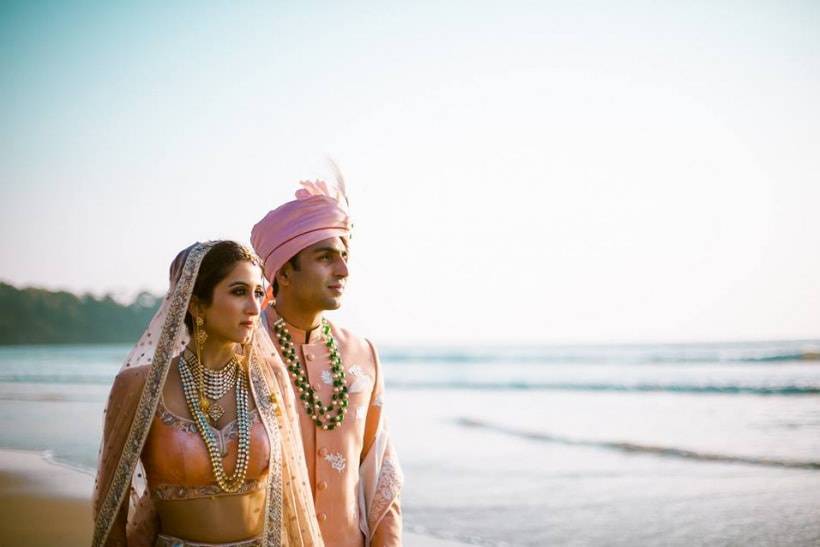 Goa is one of the most beautiful destinations of India for the couples planning to get married. People flock to Goa's beaches to make their matrimonial occasion cherished forever. Amidst the magical backdrop of the golden beaches where waves from the sea come and whisper something in your ears and allow your romance to continue forever, make your wedding special. The place offers a couple of ways to arrange a memorable wedding here – either by a wedding planner or by one of its luxurious hotels. If you want to arrange a beach wedding, it requires a permit and your wedding planner will take care of it.
Popular venues for weddings in Goa are: The Leela on isolated Morbor beach and The Taj Exotica on serene Varca beach. Both are in South Goa. You can also look for an intimate garden wedding option and try some other gorgeous venues available here.
Best time of the year to host a wedding in Goa: All year long.
7. Agra – A Little Cliched, But Taj Mahal Is Indeed Romantic :
Your wedding can be nowhere more beautiful than Agra – a place that is known for being home to the monument of love. Taj Mahal depicts an evergreen impression of love. Along with the rich Mughal culture, Agra offers a pristine atmosphere all around on your wedding. It is undoubtedly one of the most stunning wedding destinations in India. Under the dark blanket of twinkling stars at the night and with an array of Mughal cuisines, your day becomes a wonderful experience.
Some of the best destination wedding venues in Agra are: Courtyard Agra, The Orchid Farm, ITC Mughal, DoubleTree by Hilton Hotel, Mansingh Palace, The Oberoi Amarvilas and many others.
Best time of the year to host a wedding in Agra: October to March.
8. Banks of the Ganga (Rishikesh/Benaras):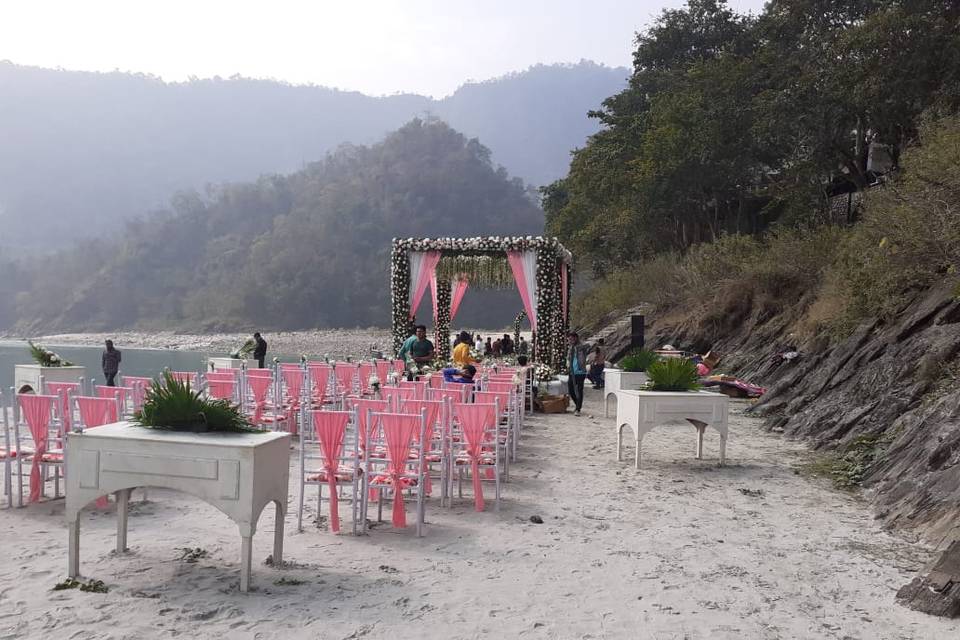 The beauty of Rishikesh is described by spirituality and peace. If you want to make your wedding offbeat and ethnic, it is an ideal destination wedding location. The mesmeric views of mountains and the bank of Ganges allow you having a divine and serene experience. Vedic hymns and swear of your lifetime togetherness can turn this place into a sacred heaven. Rishikesh has started gaining popularity these days for exchanging vows due to destination wedding has become very trendy.
Some the best places for getting married in Rishikesh are: Aalia on the Ganges, Atali Ganga, EllBee Ganga View, Ganga Kinare and a lot more.
Best time of the year to host a wedding in Rishikesh: October to March.
9. Lavasa: Have an Italian Backdrop to your Indian Wedding
Located near Pune, this well laid out township is claimed to be India's first planned Hill station is modelled on a town in Italy. Will waterfalls, mountains, lakes, winding roads and breathtaking views couple with beautiful architecture, this place is amazing for having a destination wedding in India away from the grind of the city. In fact, it has become a recent favourite for such events and also has amazing infrastructure and amenities to pull it off. A lot of hotels, as well as the Lavasa International Conventions Center, specialize in holding such events.
Some the best places for getting married in lavasa are: Ekaant The Retreat. Ekaant The Retreat, Taluka Mulshi, Village Dasve, Post Mose Budruk, Panshet – Ghol Rd, Lavasa, Maharashtra 412112., Lavasa,  Fortune Select Dasve, Hotel Celebration.
Best time of the year to host a wedding in Lavasa : October to March.
10.Shimla – With The Perfect Mountain Backdrop For A Wedding:
The splendid Himalayas cuddle up to this delightful city that's both conventional and contemporary. It's more like getting married amidst the hills or taking an extraordinary leap by planning the ceremonies in forest guest houses or camps by the river. Shimla allures those who love the mountains and the snow and fantasize of having a  Destination wedding in the Himalayas. Doesn't it sound romantic?
Some the best places for getting married in Shimla are:Hotel Radisson Jass, Longwood, Woodville Palace Hotel, Chotta Karam Vidhata Resorts, Kufri, Royal Tulip Kufri,  Kufri,  Koti Resort, Baldeyan.
Best time of the year to host a wedding in Shimla : march to october.