The most unique cafes around the world that you must visit
We've seen some really quirky cafes around the world while traveling; some in old factories, some in scary allies, and some of them even situated at the top of mountains. If you look for the world's most unusual cafes and best coffee shops, you'll find some really quirky and strange ones. Wondering where all the cute cafes are? Here's a list of the most Instagrammable cafes across the world from our traveler friends.
1.Dinner in the Sky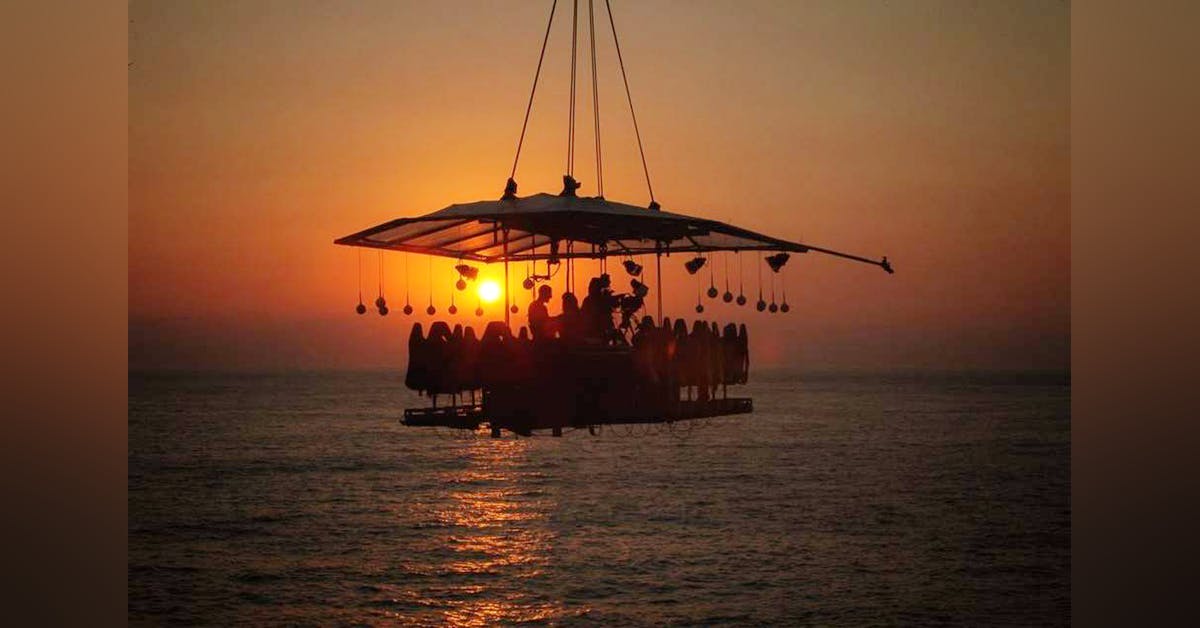 More of a restaurant than a cafe, Dinner in the Sky, pictured here is located in Las Vegas, USA has become one of the trendiest places to visit for food fanatics and thrill seekers alike.
A team of up to three chefs stand in the middle of the table and there are no fixed menus. Clients have reportedly been served a variety of food from lobsters to sushi, to tapas and gastronomic dinners.
The concept started in Belgium when Hakuna Matata, communications agency specializing in gourmet, teamed up with the Fun Group, a company specializing in amusement park installations deploying cranes. The result is part thrill-ride part-restaurant. The venue has since expanded to over 45 countries, including the aforementioned USA, Japan, Australia, and even the United Arab Emirates (Dubai), and South Africa.
2.Underwater Café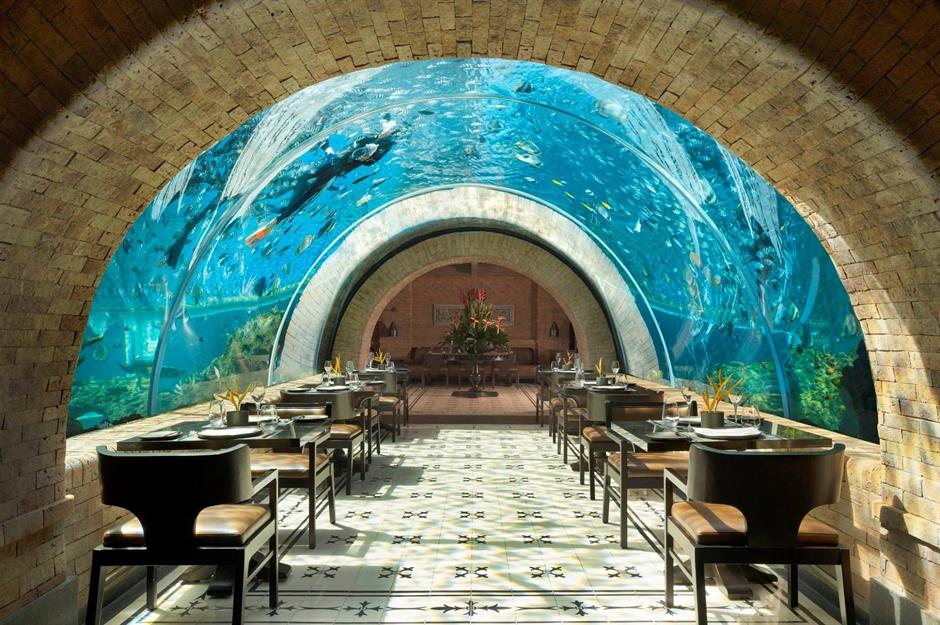 The world's first underwater restaurant, the Red Sea Star, is located in Eliat, Israel and is the perfect spot for those of us looking for a secluded romantic getaway that isn't in a token postcard resort somewhere in the Caribbean. Or for those who are simply tired of land restaurants.
The Red Sea Star is comprised of two areas: a surface area and an underwater area. The surface area has a Metro Bar, which offers fantastic views of the Gulf of Aqaba and below the surface is a star-shaped area with a bar. Even the chairs are shaped like jellyfish. The place may be a bit too special for most, but it remains one of the most unique restaurants in the world.
Art-Cafe Home is a hidden gem perched on the hillside of old Tbilisi. The art cafe offers beautiful panoramic views and is one of the best spots to party in the city. When you walk inside you will see walls covered with artwork and stairs that lead you up four floors to different rooms. The decor is eclectic and feels like you have stepped inside an artist's mind. Each room has its own vibe, such as an airy living room with mismatched furniture and paintings on the ceiling, small quirky dance floors and a 90s themed bathroom. On the rooftop terrace you will find more seating and beautiful views of the city. It's a great place to hang out with some coffee or grab some appies and enjoy the view.
4. 3 Arts Club Café In Chicago
The 3 Arts Club Café in Chicago is probably one of the most beautiful and stylish cafés you've ever seen.
It's not super freaky and colorful like the Unicorn Café in Bangkok or bright pink like Peggy Porschen in London. On the contrary, its interior falls in the category of elegant minimalism which makes it very modern and chic. Located inside the atrium of the RH furniture store in Old Town, the 3 Arts Club Café is the best address for brunch or coffee in the city. It's decorated with romantic fountains, majestic chandeliers and the most comfortable couches that make you never want to leave again.
From a standard cappuccino to fancy Matcha Latte or Turmeric Latte – there's everything one's heart could possibly desire!
The area where the 3 Arts Club Café is also very much worth a visit. Old Town is full of Victorian-era buildings, quaint streets and lovely shops.
5.Vampire Café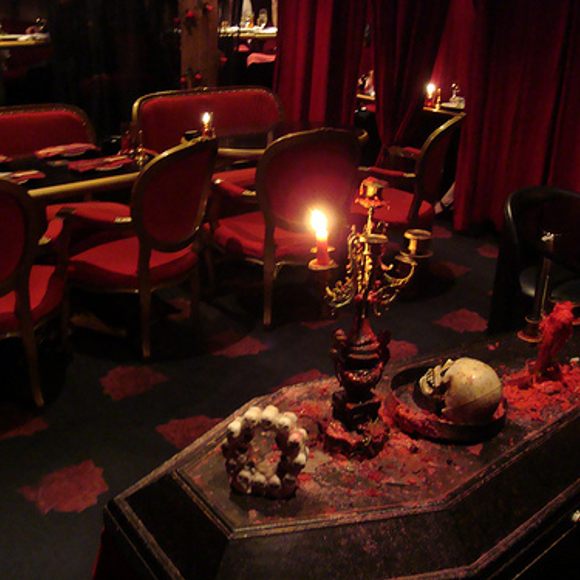 With their fourth entry, the Vampire Café in Tokyo is where Halloween happens all the time. Run by Diamond Dining, the café is located in an otherwise ordinary-looking building but the décor has captured the spooky theme so well that if Dracula were to wake up here, he'd feel right at home.
The place is dimly lit, making it a bit difficult to see your food, but we'd guess that half the menu consists of vampire-themed treats and are blood red-colored. Even the toilets couldn't avoid the Halloween makeover. This is a perfect spot to take vampire fans (Twilight-exempted) everywhere. Just come in with a cross, garlic, and some holy water in case there actually was a real vampire undercover.
6.Treehouse (Naha Harbor Diner)
The Naha Harbor Diner in Okinawa, Japan is the closest thing to a treehouse café. The "tree" in question isn't actually real, but it's still worth a few selfies.
This "fake" tree is six meters (20 feet) high made of concrete. The vines around it are real however. The café serves a scenic view over the harbor from one side of the restaurant and the beautiful Onoyama Park from the other.
And while the tree isn't organic, most of the menu here is. The restaurant serves organic Indian, Italian, and Japanese dishes with locally-produced ingredients. For its location, the diner is also reasonably priced.
Now all they need are some swings hanging off the branches and an Abercrombie model to pose as Tarzan.
7. Laundry Café
Doing laundry has to be one of the most unglamorous things about being in a civilized society. But thanks to Denmark's Laundromat Café located in Copenhagen, you can now relax, sip on some lattes, and even sleep while doing your laundry. A simple, but genius concept.
The café, which opened in 2004, has fully embraced its laundromat identity, even having a cool-themed website after it. They serve almost everything you'd expect from a café: cakes, coffee, milkshakes, and more (more being wine and 40 kinds of beer). With franchises that have extended to Reykjavik, Iceland, the place also offers a mini-daycare with play areas for children as well as a good selection of magazines, newspapers, and board games! There's a reason Denmark is consistently a top-ranked country.
 8.Brigit's Bakery Afternoon Tea Bus Tour, London
As you listen to the history of London sip on a cup of tea (or Champagne!) make sure you hold on tight to your glass as the bus goes around the corner, you'd hate to lose your wine.
Enjoy indulging in a wide array of sandwiches, cakes and pastries and of course, tea. Make sure you order a hot drink on the bus so you can collect one of their reusable mugs. The afternoon tea bus tour leaves from Victoria Coach station or Trafalgar Square and takes around 90 minutes. Tour leave every half hour from 12 pm until 5 pm every day.
9.The Note Coffee In Hanoi
The Note Coffee, in Hanoi, is an unmissable stop on your visit to the Vietnamese capital! All 4 floors of this cafe are absolutely covered in post-it notes from everyone who visits this friendly and charming place.
The multi-coloured post-it notes create a unique feel and looks super cool. It's definitely a place to visit and get that cool Instagram shot (if you're into that kinda thing!)
10.Chocolate cafe in Tokyo, japan
And Tokyo makes its third entry into the list with the irresistible allure of this chocolate-inspired cafe, 100% Chocolate. Affiliated with Meiji, Japan's largest chocolate manufacturer, the café lives up to its name. This is a chocoholic's dream.
The extensive menu features a plethora of desserts, chocolate drinks based on monolithic cocoa themes, and various other chocolatey products. The interior is softly lit and the white and bronze color scheme give the café a modern museum-like feel.